Teren identifies, quantifies & prioritizes discrete land movement and geohazard threats. We pinpoint where customers need to take action on high-ranking risks & deliver scientifically informed analytics to prescribe the right risk mitigation strategies.
Identify, Prioritize & Monitor Landslides
In steep and hilly terrain, geohazards and landslides manifest as the result of changes in vegetation, hydrology, and land movement.
Teren proactively identifies, ranks, and monitors landslide geohazards to create effective response and mitigation plans for pipeline operators and DOT's.
Request Meeting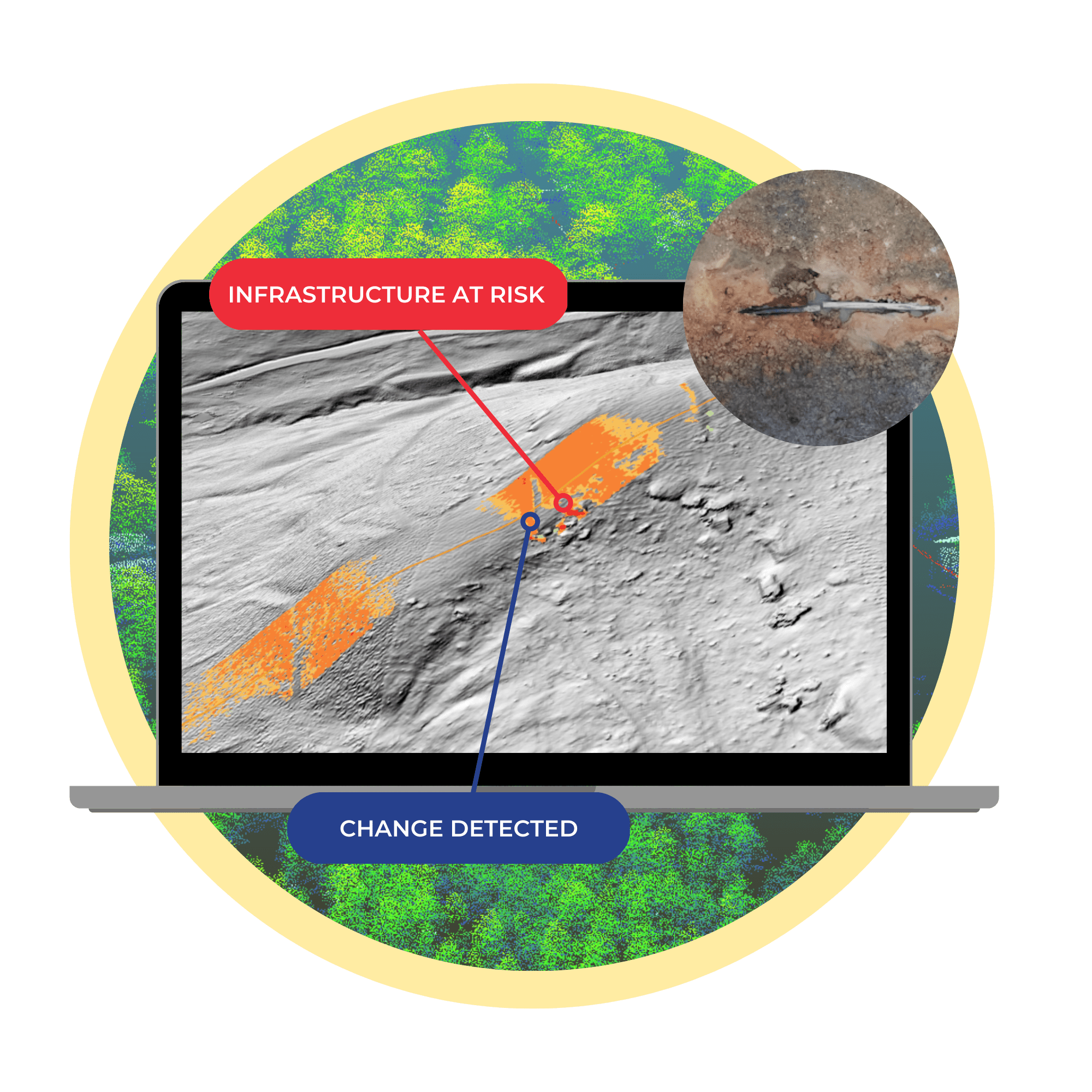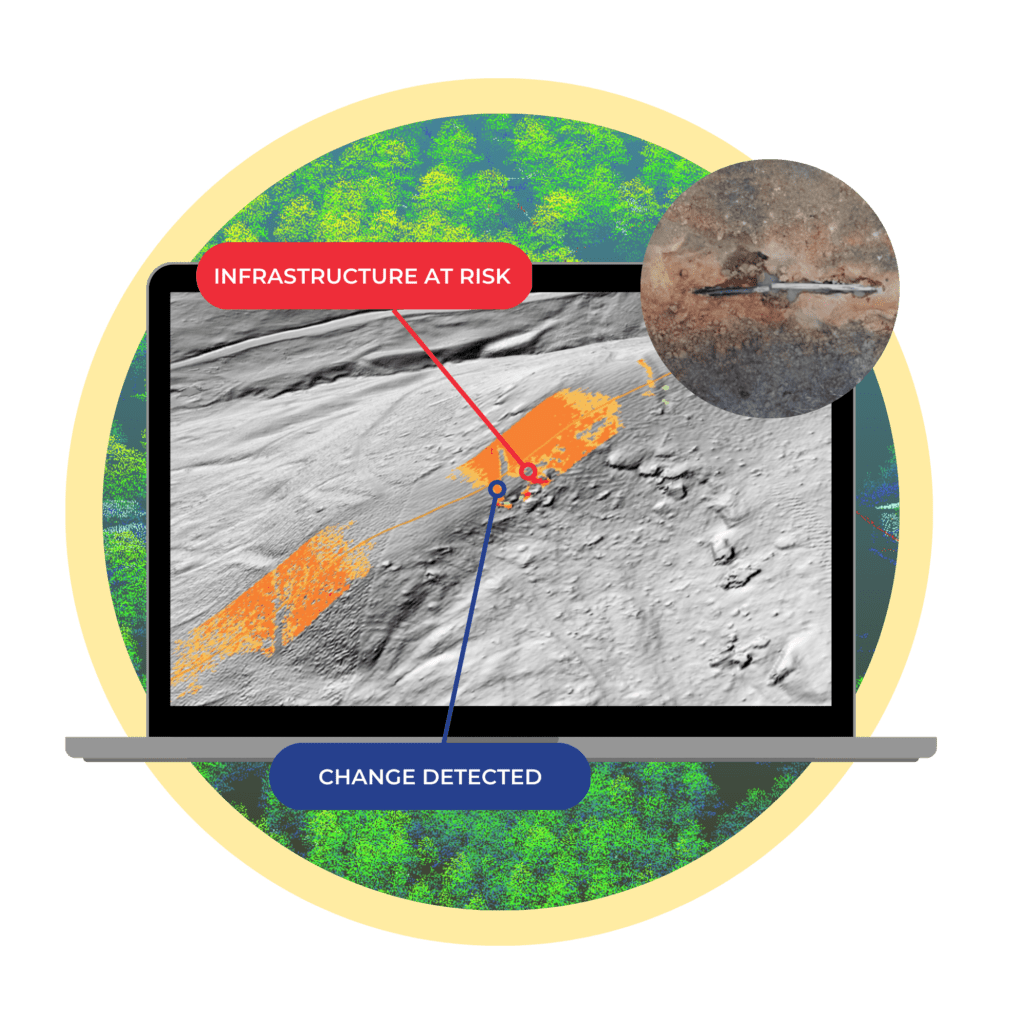 Teren's Approach to Land Movement & Geohazards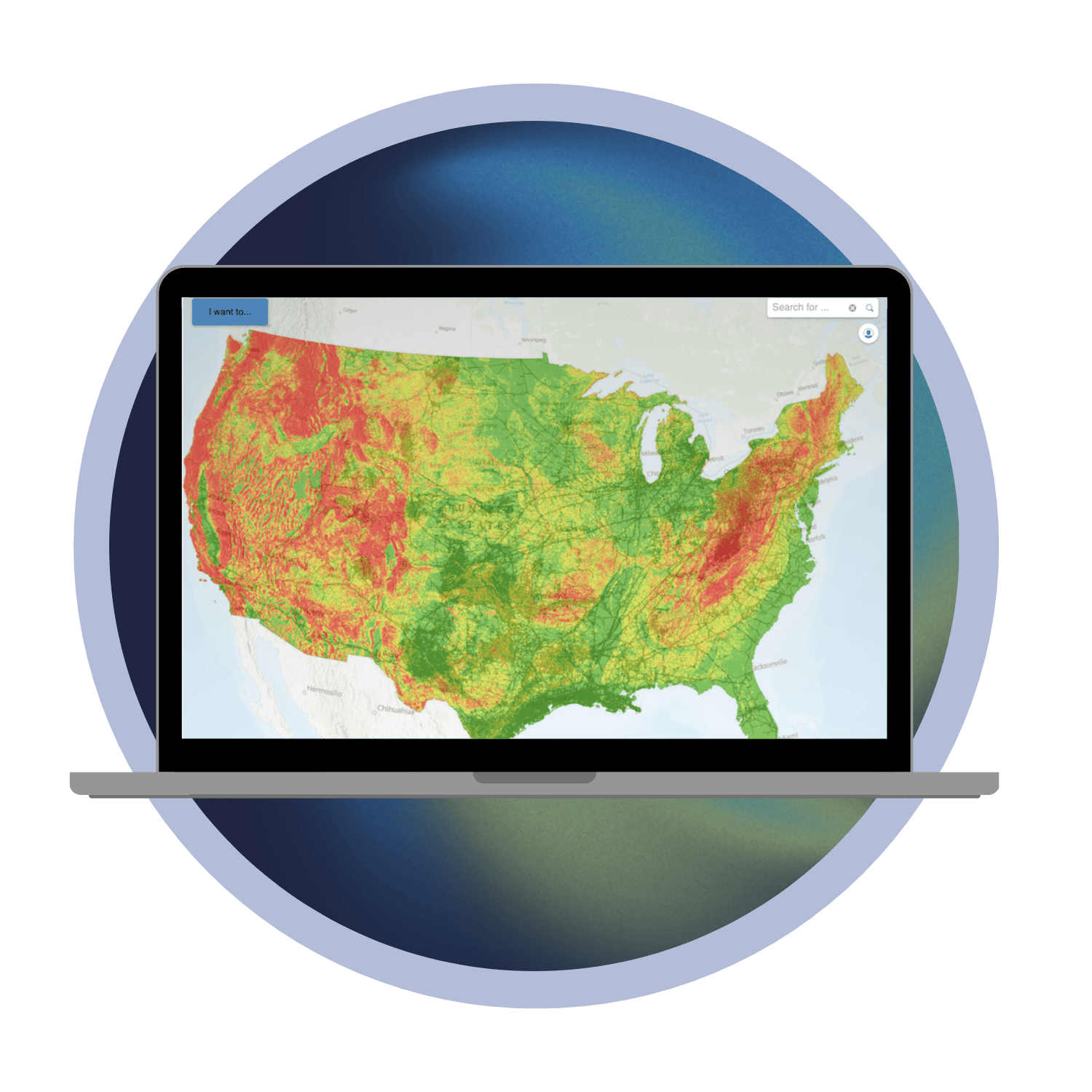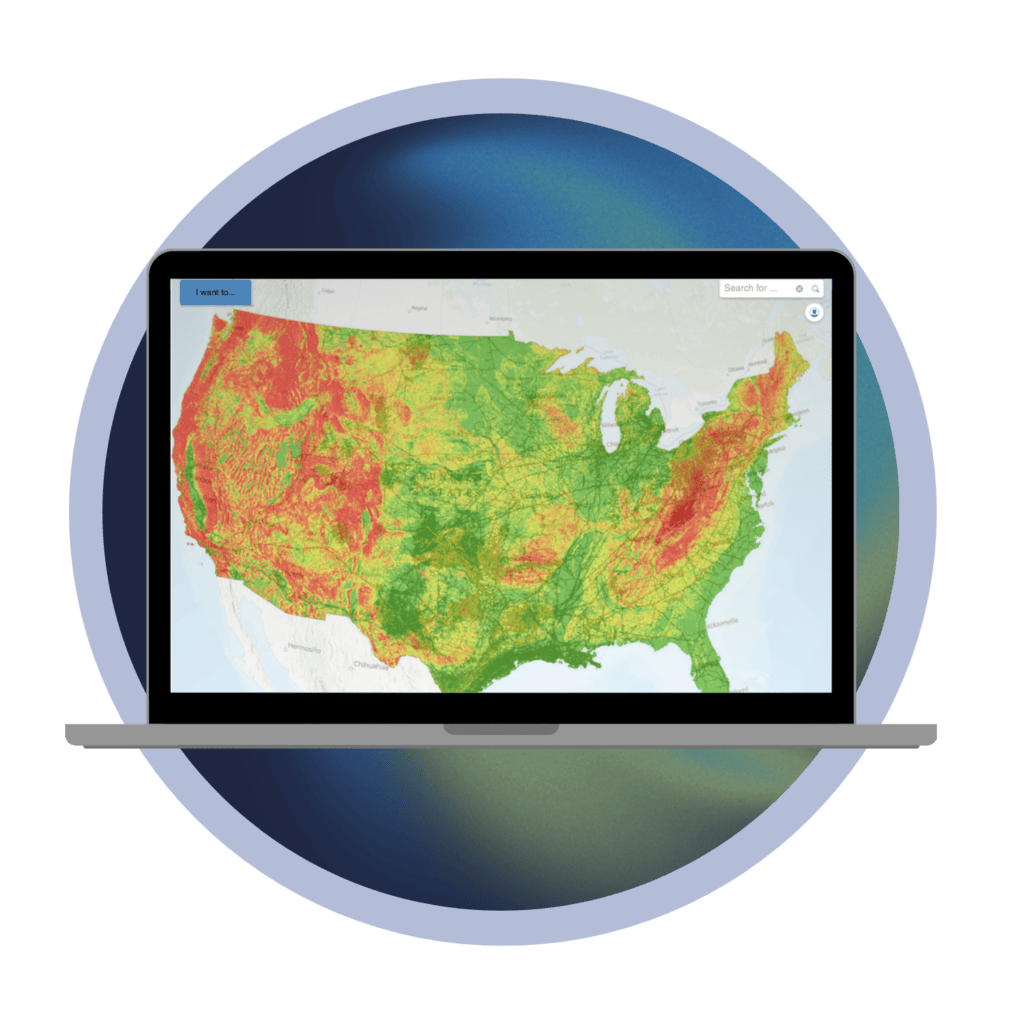 ASSESS
Assess threats and susceptibility across the entire asset footprint.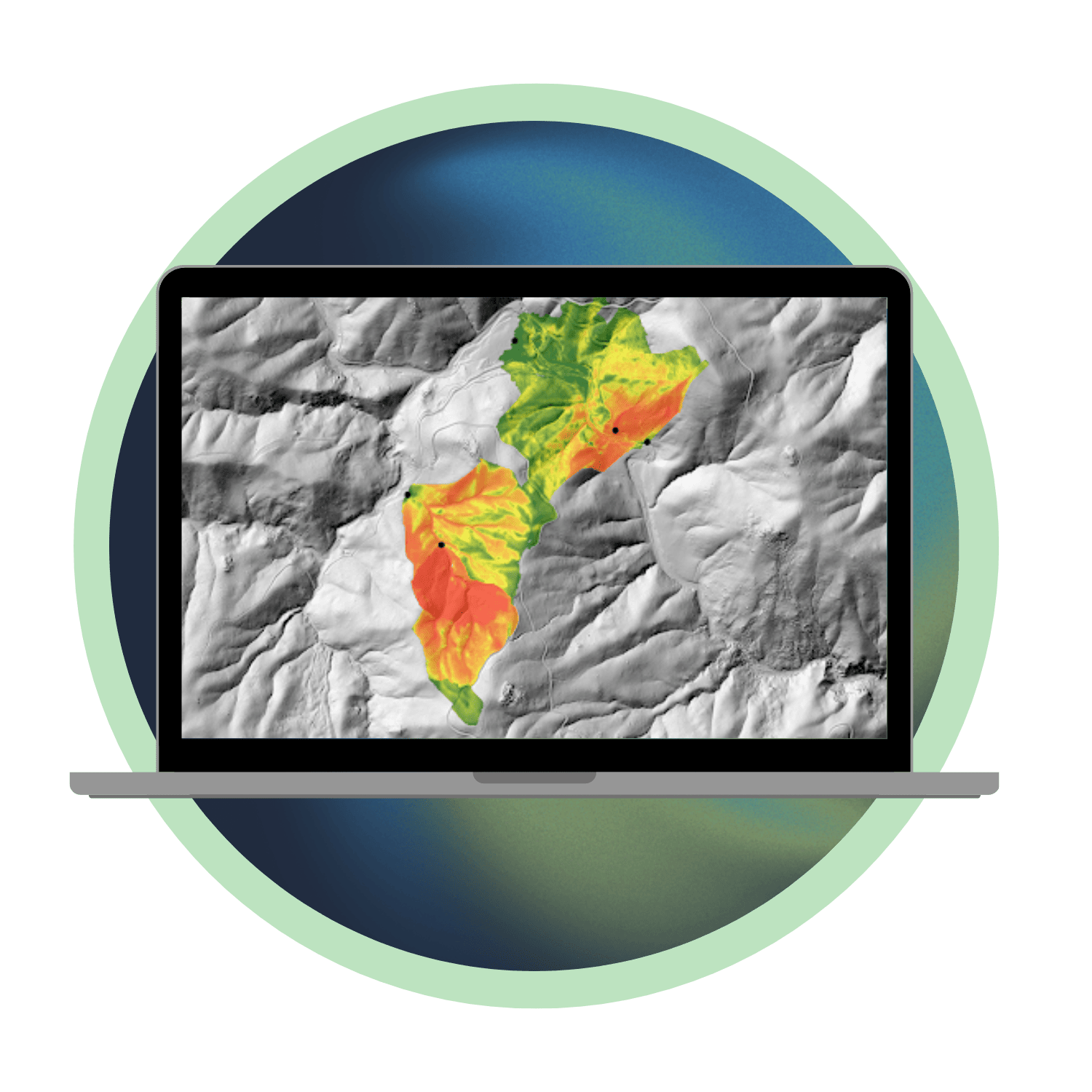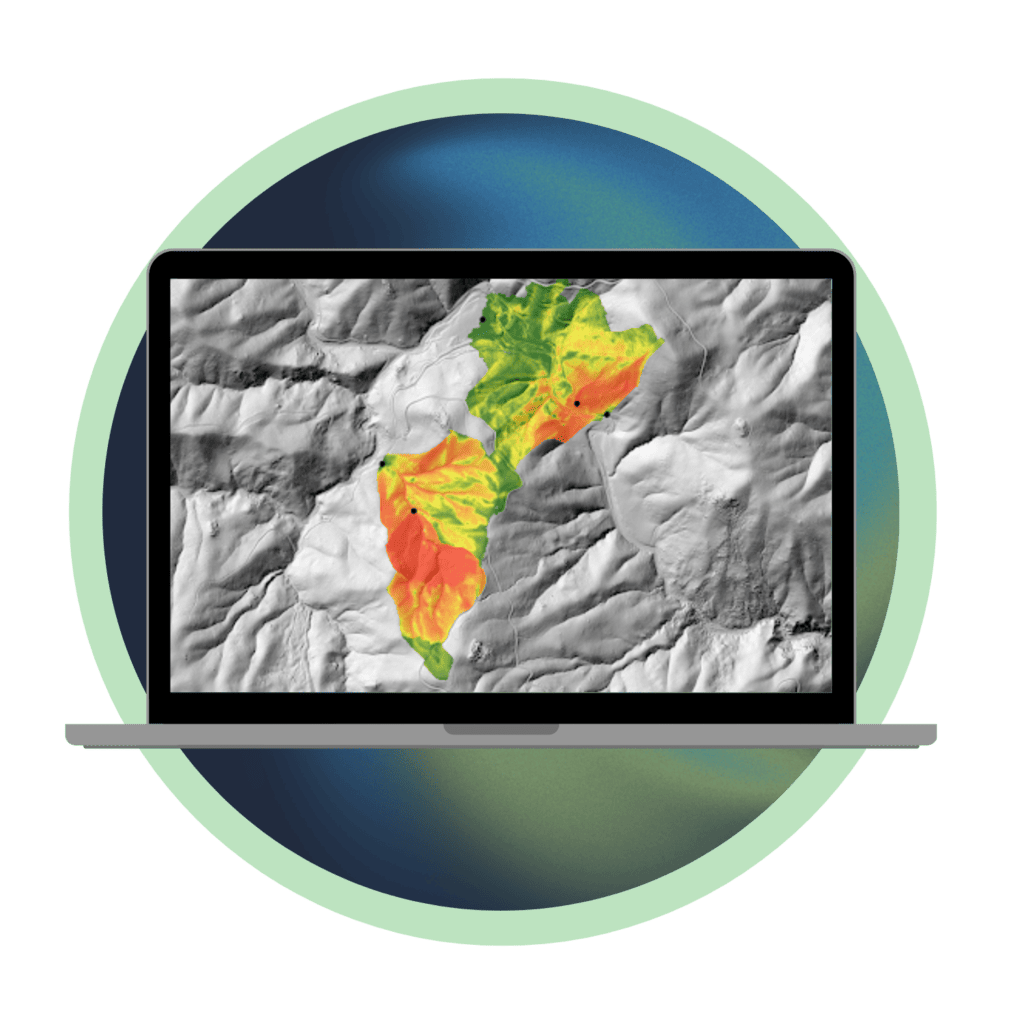 PRIORITIZE
Identify and quantify distinct risks.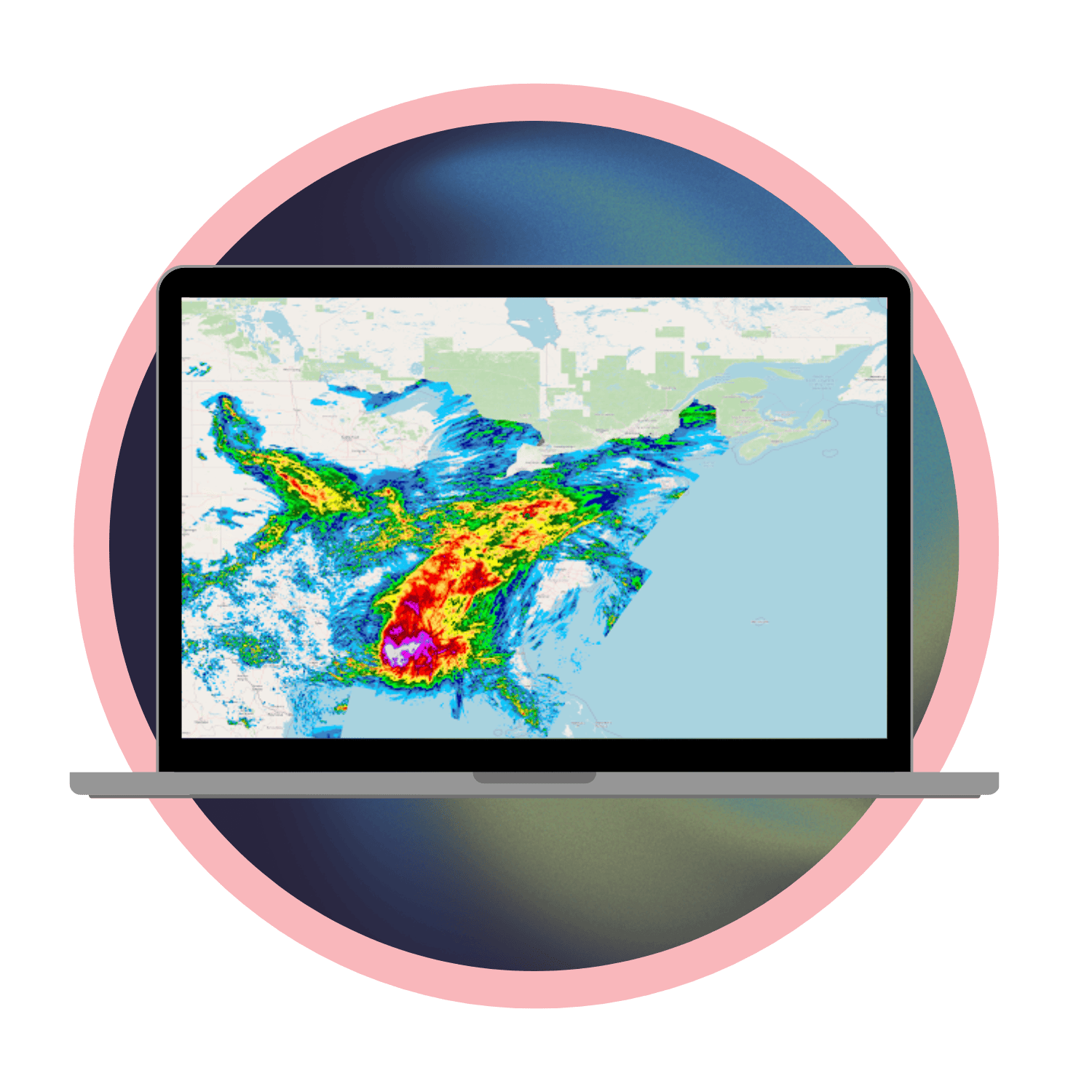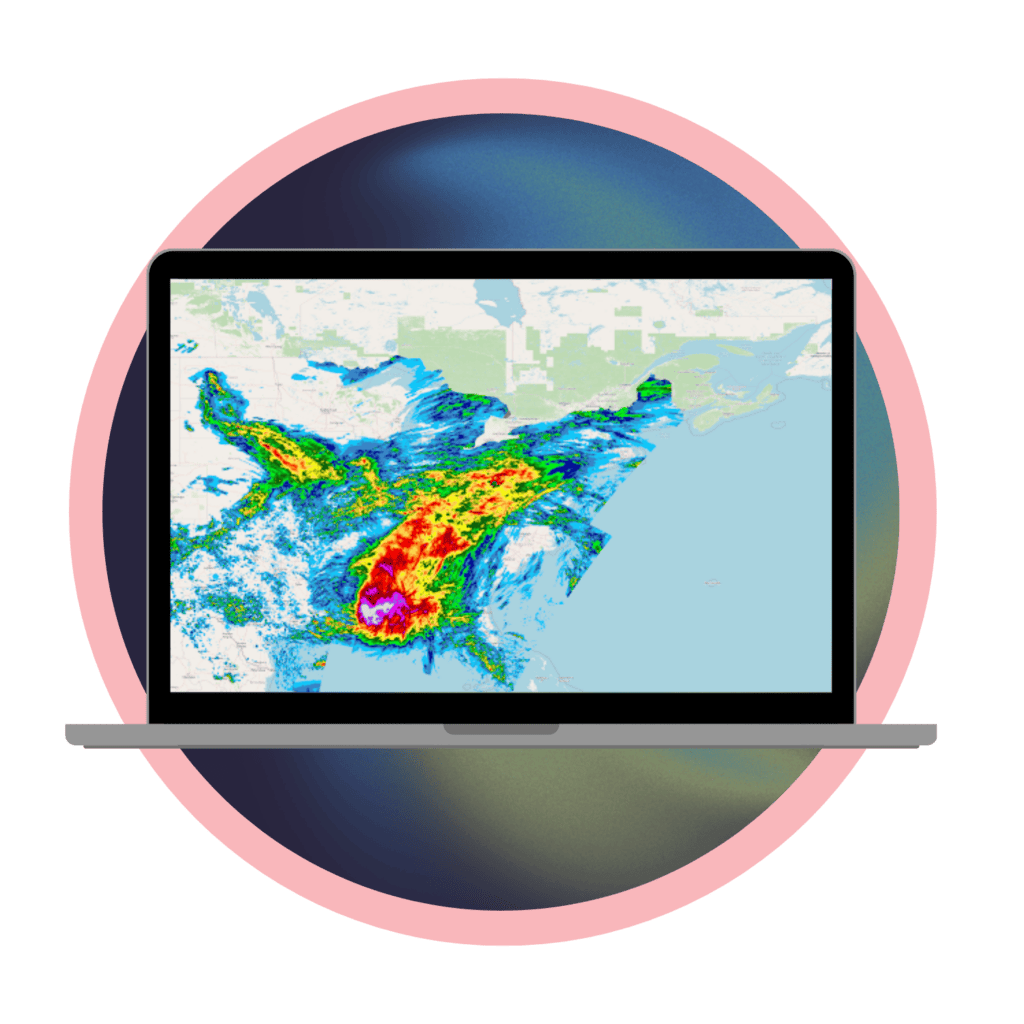 MONITOR
Monitor and respond to changing environmental conditions.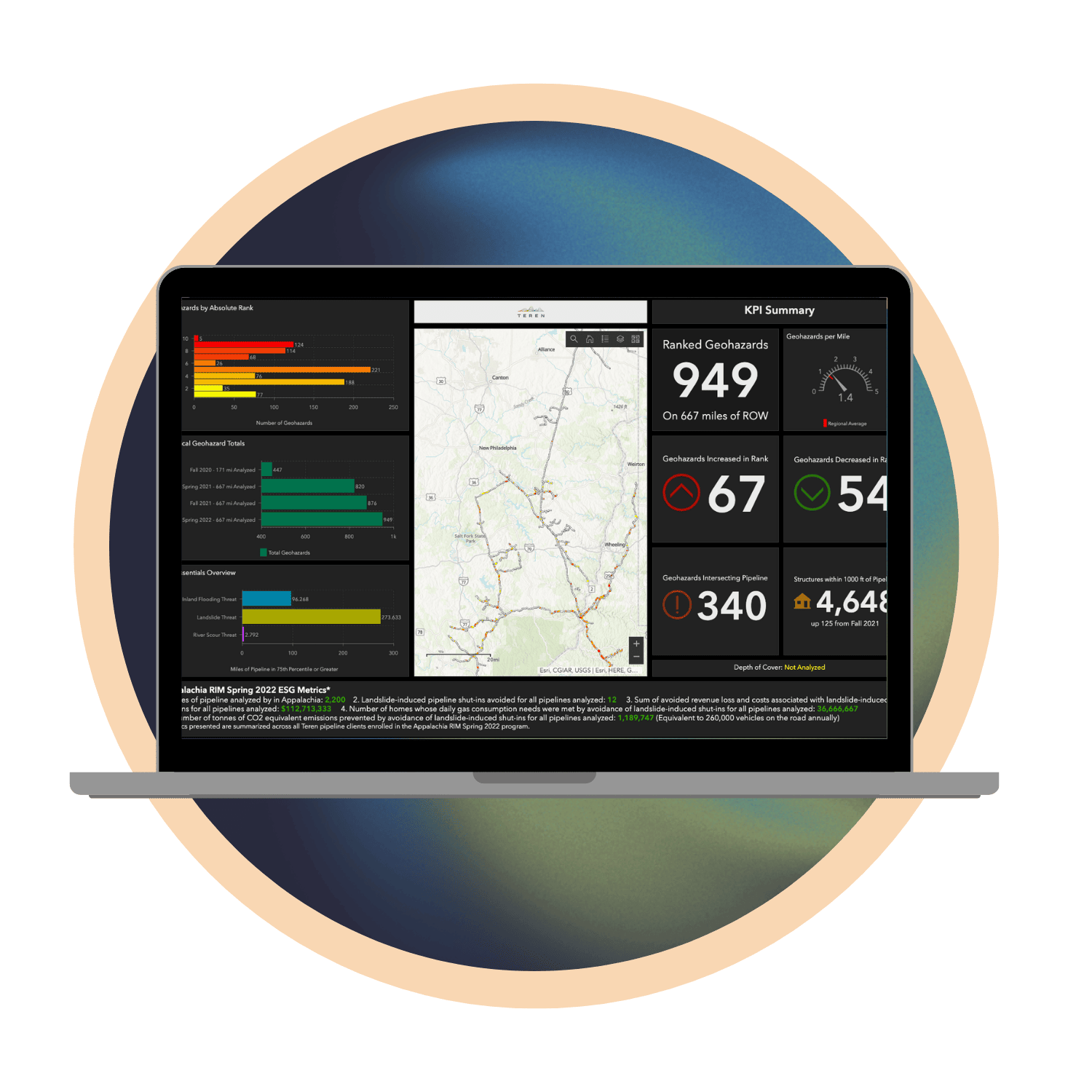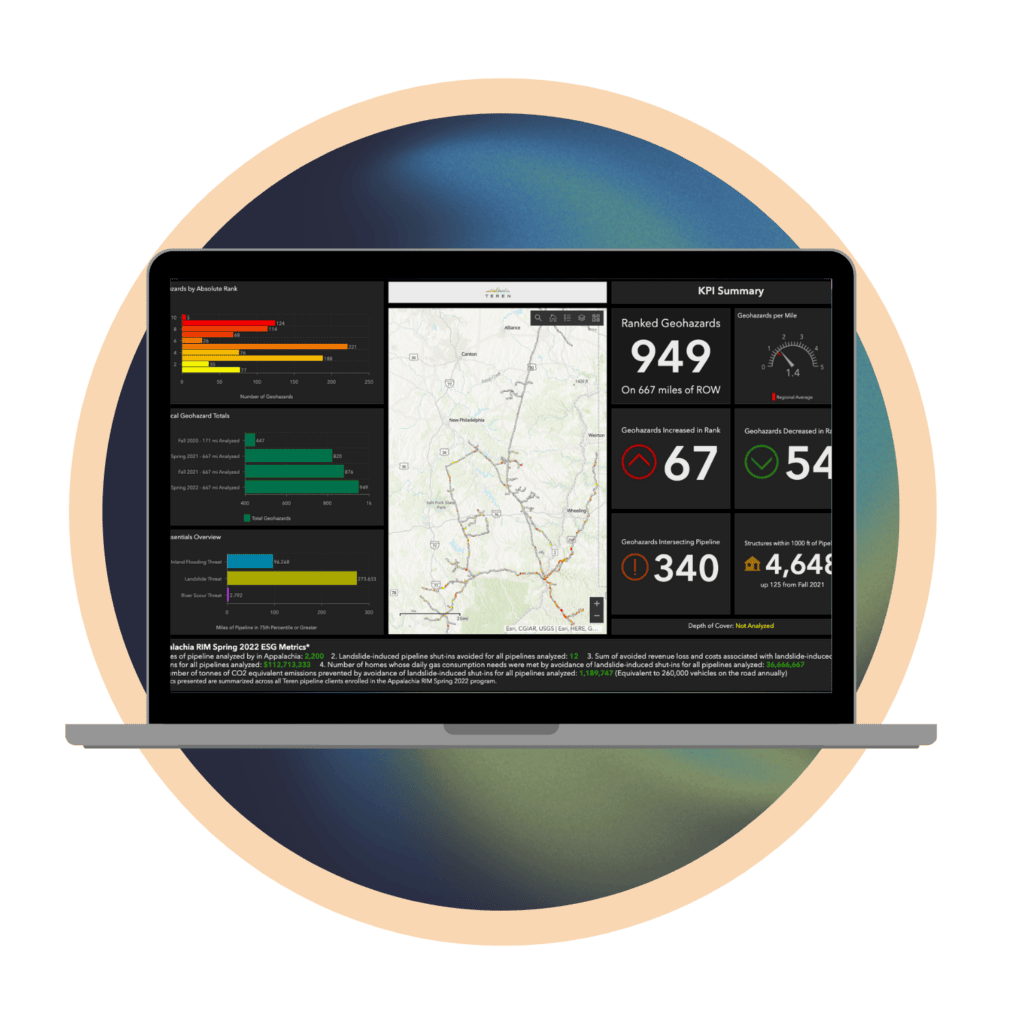 REPORT
Verify and report on improved resilience and reduced risks.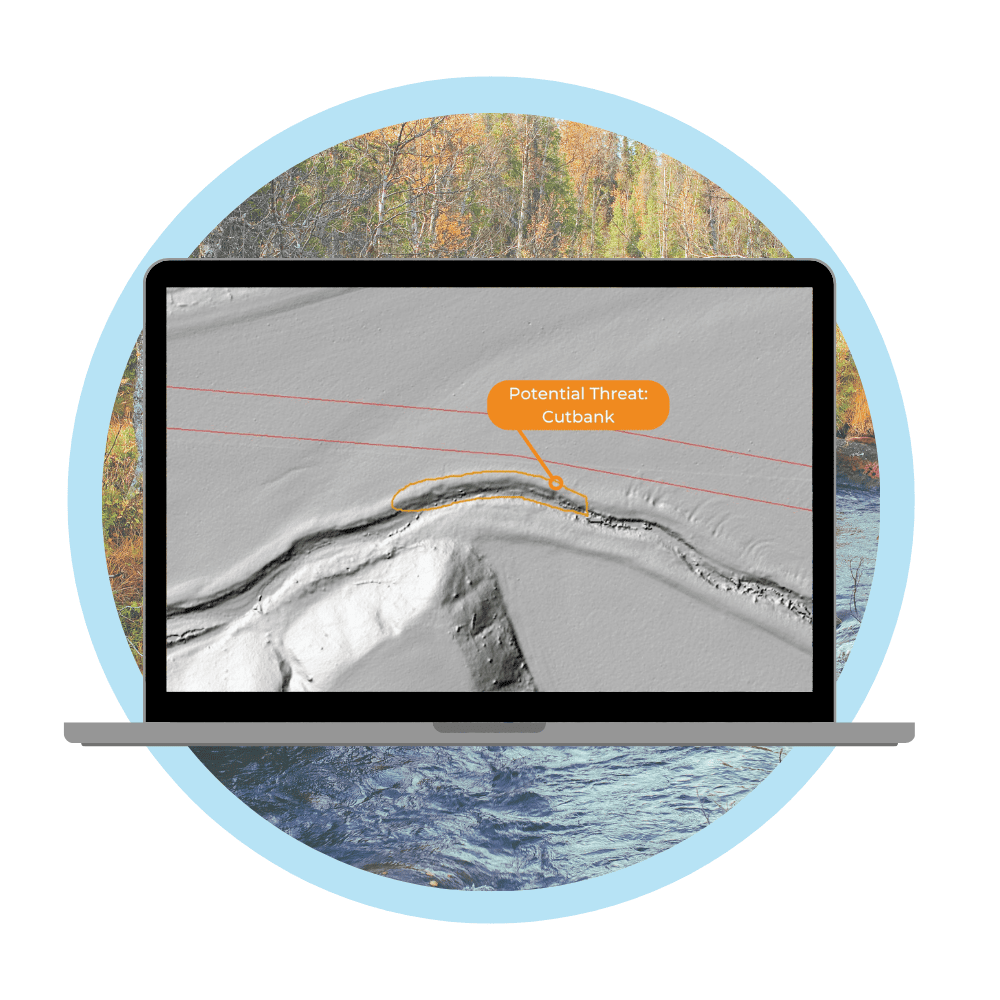 Erosion Leads to Undetectable Risks
In topographically flat regions, geohazards manifest where hydrologic, agriculture, and wind forces erode the landscape and threaten infrastructure.
Teren's approach to inspection using remotely-sensed data allows us to identify hazards not visible to the human eye. We help pipeline operators, land management organizations, renewable developers, and engineering firms identify issues before they become incidents.
Learn More
The Cost of Land Movement
Teren's environmental twin approach to land movement and geohazards saved clients in Appalachia an estimated
$152M last year
– preventing 24 failures due to landslides and saving roughly 15B cubic feet per day of natural gas.
Water Can Change Terrain Surrounding Assets
Flooding, debris flow and powerful hydrologic forces can cause unpredictable erosion and direct damage to assets and property.
Teren data and analytics uncover problematic flow paths and can be used to model debris flow, ponding or inundation scenarios.
Whether we're monitoring precipitation in a right-of-way for potential asset damage or evaluating watershed surrounding a neighborhood post-fire, Teren hydrology analytics improve resilience.
Request a MEeting