Identify, Prioritize and Monitor Environmental & Climate-Related Threats with Teren's Expert-Enhanced Data & Analytics
With so much at stake — degrading assets, new regulations, and ESG pressures — the status quo to manage risk is no longer sufficient. Teren's pipeline right-of-way integrity management program is an innovative, systematic approach to threat identification, prioritization, and monitoring to help you make the leap from risk to resilience.
Are you in Compliance with External Force Threat Regulations?
PHMSA now requires operators to identify and evaluate all potential threats, including external forces, to covered lines… and Teren is here to help. We help operators meet multiple regulations, including:
Gas Mega Rule 49 CFR 192
49 CFR 195
ASME B31.8s
PHMSA Advisory Bulletins
Read More on our Blog
Pipeline 4D: Purpose-Built Analytics to Solve Operator Challenges


Geohazard Identification & Ranking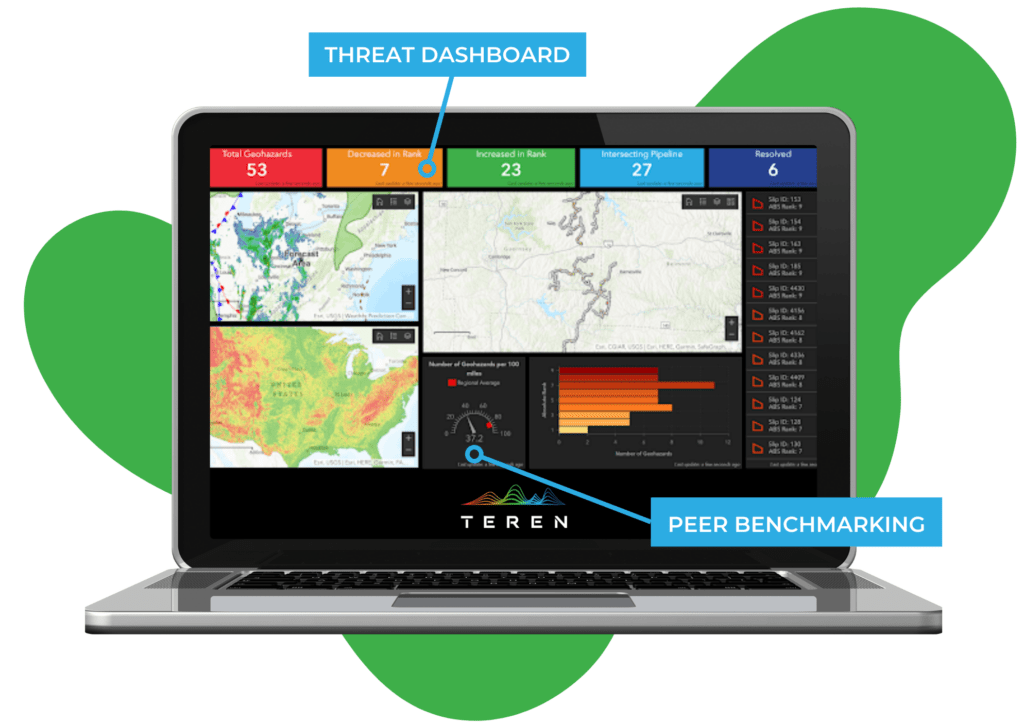 OPTIMIZE ROI
Unlock the Value of Remotely-Sensed Data
Get ahead of environmental, regulatory, and ESG requirements with Teren's decision-ready data. Departments across your organization can leverage Teren to improve operational efficiencies, maintain permits and social license to operate, and save money.
Learn More
Teren's Proactive Path to Pipeline Resilience
DON'T TAKE OUR WORD FOR IT
Case Study: Save Millions in Lost Revenue
Watch our recent webinar, Mitigating External Force Threats, to hear how one Teren client reduced their repair budget by 90%.
Prior to Teren, the operator had 246 unprioritized geohazard slips which cost 2-3x more to repair than it would have to proactively mitigate. This resulted in 3-5 shut-ins per year costing $7MM/day when shut-in.
With Teren's Pipeline 4D program, they reduced the number of unknown slips to only 12. Subsequent mitigation reduced the repair budget by 90% and resulted in 0 shut-ins per year.
Watch Now!
Schedule a Meeting to Learn More