In response to recent events, PHMSA has released an Advisory Bulletin regarding the potential for damage to pipeline facilities caused by earth movement and other geological hazards.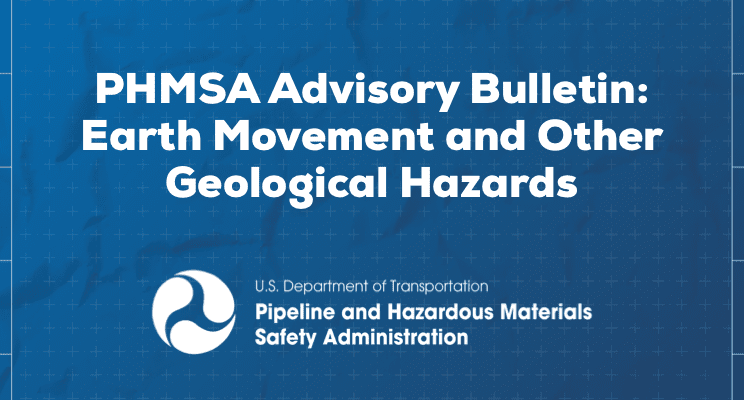 What's New?
While operators have been required to look out for geohazards for some time, the big change is a focus on climate change and its impacts on pipeline integrity. Natural gas and hazardous liquid operators need to consider the impacts of climate change on pipeline integrity, citing dozens of cases in recent years where abnormal heavy precipitation events and freeze-thaw cycles have led to earth movement outside of historical norms and, thus, pipeline failures where operators weren't prepared.
Operators need to be proactive and Climate-Change-Risk-Aware.
According to PHMSA, "Changing weather patterns due to climate change, including increased rainfall and higher temperatures, may impact soil stability in areas that have historically been stable. These phenomena can pose a threat to the integrity of pipeline facilities if those threats are not identified and mitigated. Owners and operators should consider monitoring geological and environmental conditions, including changing weather patterns, in proximity to their facilities."
What can operators do?
Teren's climate resilience analytics and, specifically, the Right of Way Integrity Management program was designed with this exact concern in mind. Our program provides natural gas and hazardous liquid operators with a 3-step approach to identifying, prioritizing, and monitoring natural force threats. It directly supports recommendations in the bulletin including:
Identify areas prone to earth movement including (but not limited to) slope instability, subsidence, soil settlement, erosion, and others dynamic geologic conditions.
Develop monitoring plans such as utilizing aerial mapping LiDAR to track changes in ground conditions.
Develop and implement mitigation measures for site-specific conditions.
Monitor environmental conditions and changing weather patterns.
Step 1: Understand your Risks
Teren's Essentials solution identifies areas of prone to earth movement and at highest risk of environmental hazards. Using soil, geologic, hydrologic, terrain, climate, and remotely sensed data, Teren identifies high risk areas to prioritize inspection and mitigation investments.
Step 2: Mitigate & Monitor
Proactive mitigation trumps reactive clean-up every time. Using high-resolution LiDAR and GIS know-how with the latest in machine learning, Teren's Premium solution pinpoints existing and potential geohazards as well as provide root cause analysis.
When enrolled in our 4D content program, Teren monitors your assets with bi-annual collections and analyses to identify and prioritize new and changing hazards. Thanks to Teren's insights, you can devote your resources where they'll matter most and keep track of changes over time.
Step 3: On-Demand Weather Response
Mobilize collection within days of a weather event to assess and reduce damage. At Teren, we know time is of the essence when responding and remediating climate-related incidents. Access Teren's On-Demand weather monitoring and response analysis to ensure safety, reliability, and compliance.
To learn more about how Teren's Right-of-Way Integrity Management program directly addresses the recommendations in PHMSA's latest Advisory Bulletin, contact us today.